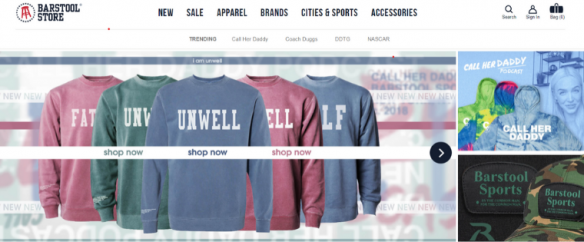 The statistics are stunning.
There are 850,000 podcasts in the U.S. and 40 million episodes, up from 550,000 and 18.5 million, two years earlier. And 51% of the U.S. population — 62 million — have listened to a podcast; 22% do it at least weekly. Some of the programs are little more than radio and TV show replays, but there's also a huge universe of original content with devoted followings.
Does all this content constitute a merchandise licensing business opportunity?
Sniffing around
Some in the licensing world have been sniffing around the category. Evolution USA is close to signing a book deal for Popular Science's "The Weirdest Thing I Learned This Week," which has 30,000 weekly listeners with product potentially for 2021, says CEO Travis Rutherford. What makes podcasts potential fodder for licensing is their shear breadth from sports and cooking to DIY, politics and everything in between. And with a relatively low cost of entry and in many cases, very targeted audiences, potential opportunities abound.
One attractive statistic: the lucrative 12-34-year-old age group accounts for 49% of the audience. It's more of a thing in the U.S. than anywhere else, though there are pockets of popularity across the globe.
Niche Opportunities
Many of podcasts are viewed by those who are scoping out the category as niche licensing opportunities better suited to specialty than mass.
That's not to say they have small fan bases. For example, podcast personality Joe Rogan and "The Joe Rogan Experience," which had 190 million downloads in 2019, is taking the show and 11 seasons of content exclusively to Spotify starting in September in a deal valued at $100 million. The high-profile podcast is being sought by some retailers more for its logo for apparel than for its content, say licensees.
And then there are other top-ranked podcasts that are prime for licensing. such as Barstool Sports' "Pardon My Take" and "Fake Doctors, Real Friends Zach and Donald," which features "Scrubs" actors Zach Bratt and Donald Faison recapping the series that ran for nine seasons on NBC between 2001-2010.
Some podcast publishers such as Barstool Sports and Crooked Media (publishers of Pod Save America and others) sell merch off their websites, with goods featuring logos and catchphrases.
"Podcasts are another online platform that consumers have a connection to, similar to those forged with TikTok, YouTube and other influencers, and many of them could  fill a niche and do quite well," said one licensing agency executive whose firm has been evaluating the category.
But licensing might be "extremely limited to logos, so the longevity might not be there," says Mad Engine's Dean Allen, who has fielded requests from retailers for Joe Rogan. And since podcasts, unlike films and TV and streaming series, don't have visual content, it makes them better suited for categories such as publishing, board games and food products.
"The content is definitely licensable, and while the IP might be limited there is an opportunity and white space to grow," says Bioworld's Jason Mayes.
Source: Licensinginternational.org