It's been a hectic day 1 at Music Inc 2.0 – the second edition of a conference on the business of music curated by loudest.in, backed by effervescent entrepreneur Anurag Batra from the Exchange4Media Group. The day started off with a few missteps on the technical front, but once the show was on the road…the music played on.
After the initial pleasantries were done, it was the turn of the Dharavi Dream project to work their magic on the mics in the form of beatboxing and B-bopping.
It was then the turn of industry veteran Neeraj Roy (CEO – Hungama) to take the stage and share his thoughts on the music business along with some fairly illuminating stats like while the consumption of music in India is high (in the post Jio era), it still pales in comparison to a much smaller country like the Philippines. Also, India is currently ranked #15 in the world and is likely to move into the top 10 by 2022. India has 150 million active music streamers, 250 million if you include YouTube.
One epic stat shared by Neeraj was that "lyrics" as a term is the #6 searched term on the internet, even ahead of "sex". Could this be because of the number of young 'uns or oldies online? That's anyone's guess.
Some of the other gems Neeraj shared which would seem pretty obvious are that Indians prefer to "view" their music v/s "listen" to their music, Bollywood to be blamed for that!
Next up was a panel discussion moderated by Qyuki co-founder Sameer Bangara on "Creative Entrepreneurship in the music business". He was joined on stage by a few influencers like Prajakta Koli, Aaquib Wani, Nirmika Singh and Tej Brar who shared their opinions on how to manage your brand on social media over a longer period of time. Apart from ingredients like determination, vision, and hard work, everyone agreed that "doing what you LOVE" irrespective of monetary gain is of utmost importance.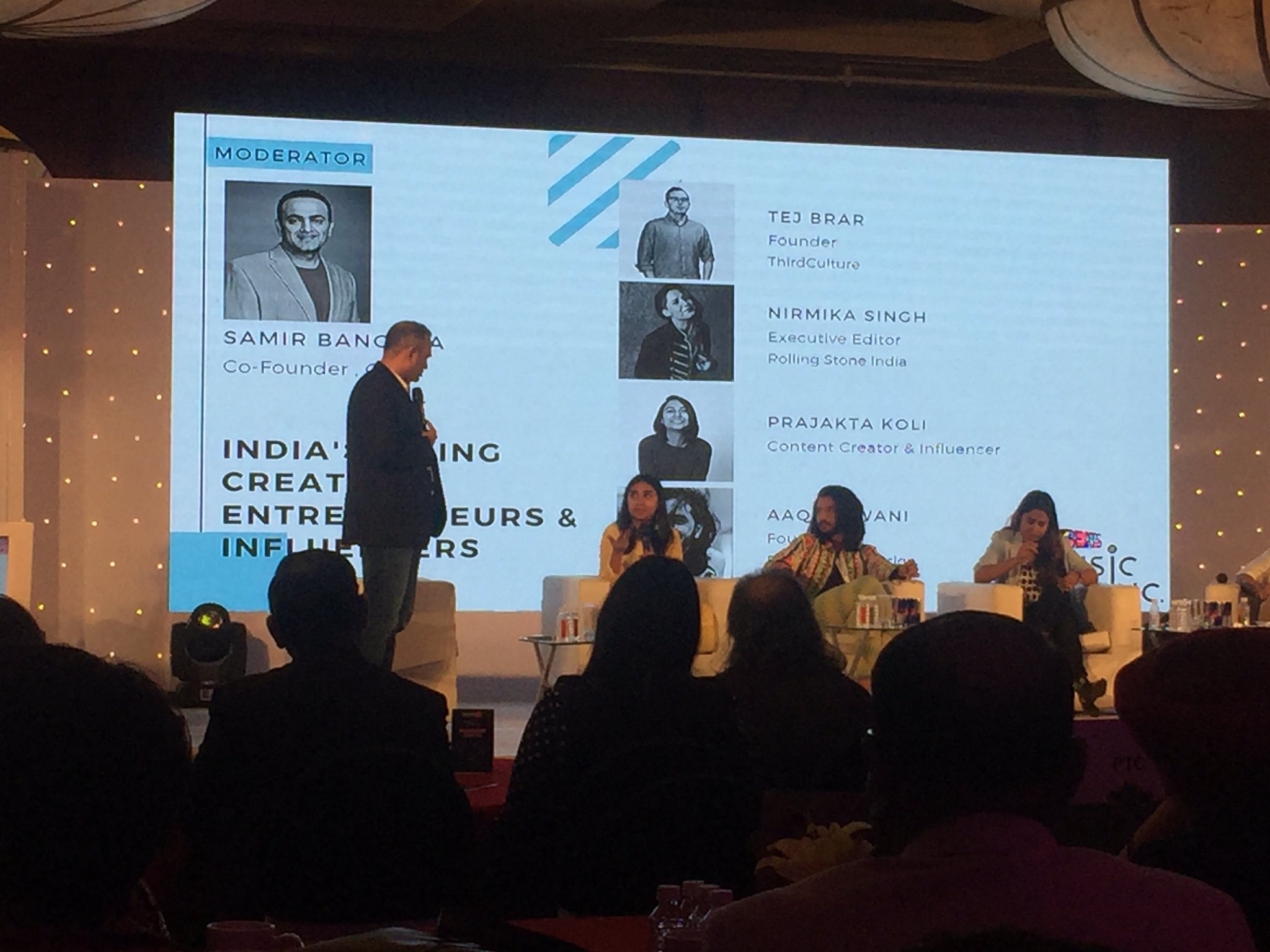 Deeper issues of managing #mentalhealth and getting family support or lack of it and how that plays out in the journey of a creative entrepreneur also made for great content.
Up next was a keynote by proud-to-the-hilt Bandra boy/Blues man and chairman of FountainheadMKTG Dentsu Brian Tellis who shared his views on how to build GREAT intellectual properties. When Brian speaks you listen! Unfortunately his slot was just before a free lunch so everyone made a beeline for the buffet! But Brian worked the mic as a seasoned DJ would. He sculpted a great blue print for developing successful intellectual properties and showcased pet projects like Aadyam and the Mahindra Blues Show as examples of accomplishments that not only their company but the country at large should be proud of.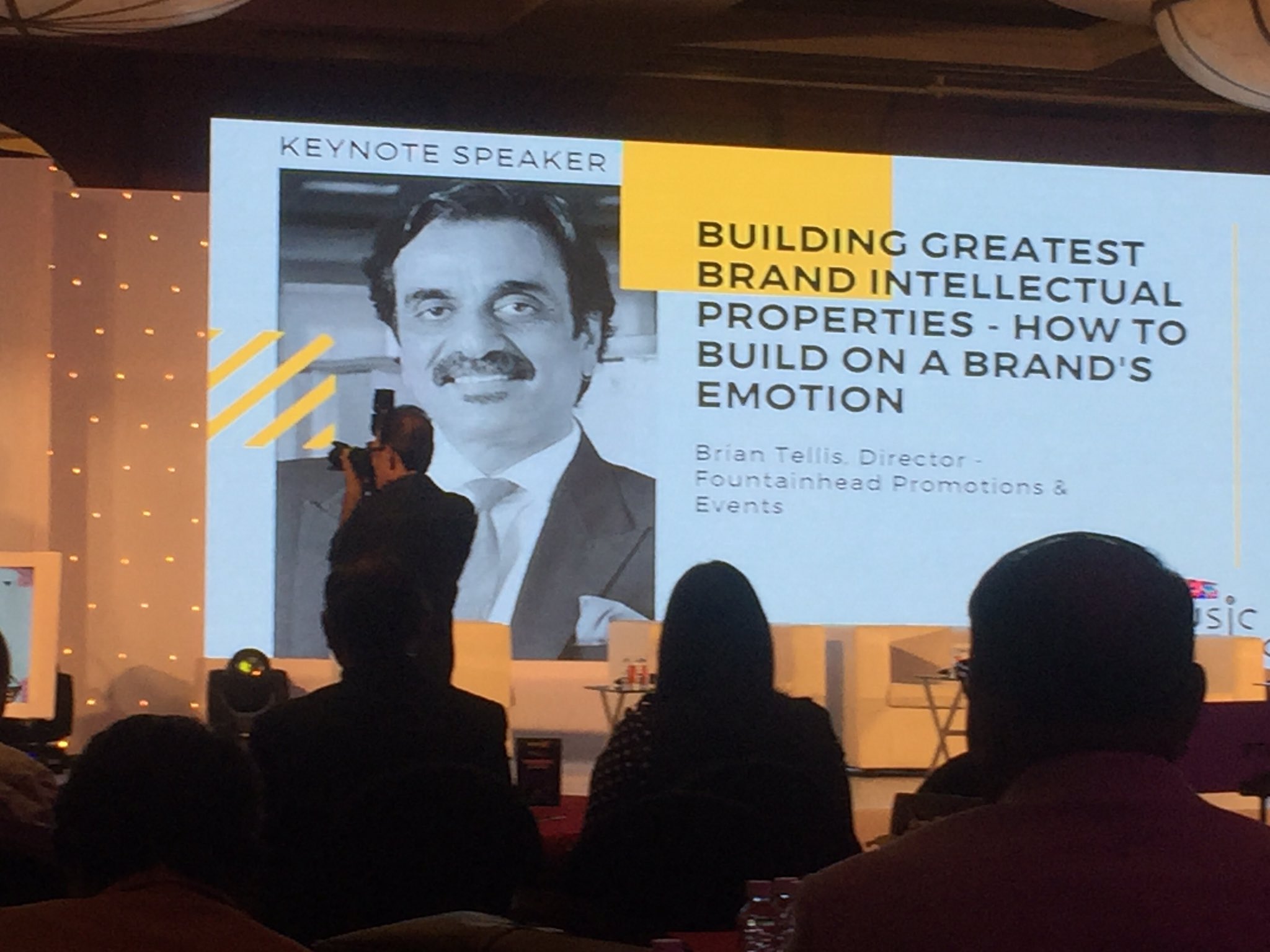 while the former has fired up the local theatre circuit, the latter is on course to building a truly global IP made in India.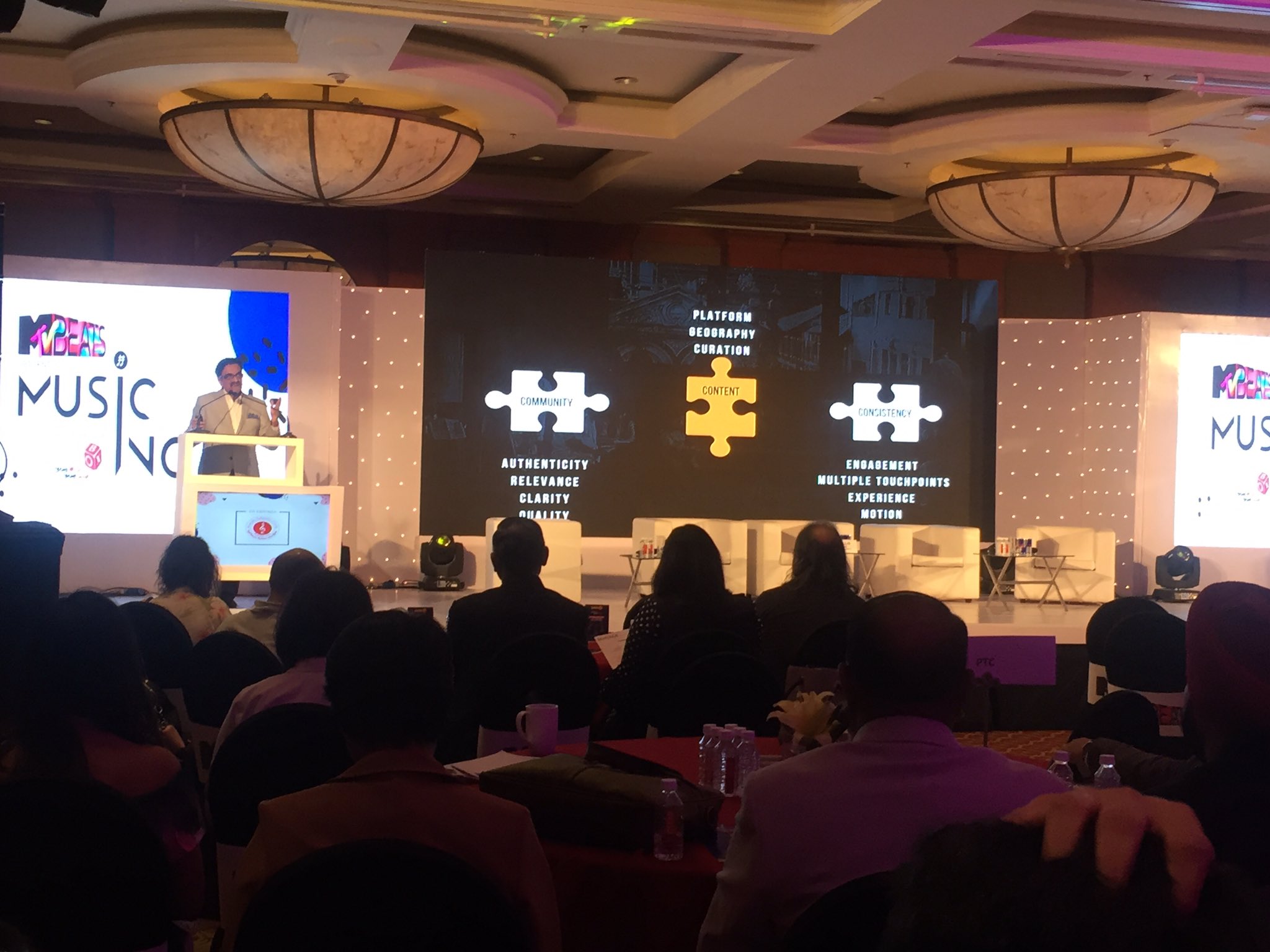 Post the free lunch it was back to the business of music. The next panel discussion on technology, data and design was helmed by veteran marketer Lloyd Mathias and the panelists shared some valuable insights on the tech surrounding the music and how critical it is to sustain a healthy ecosystem.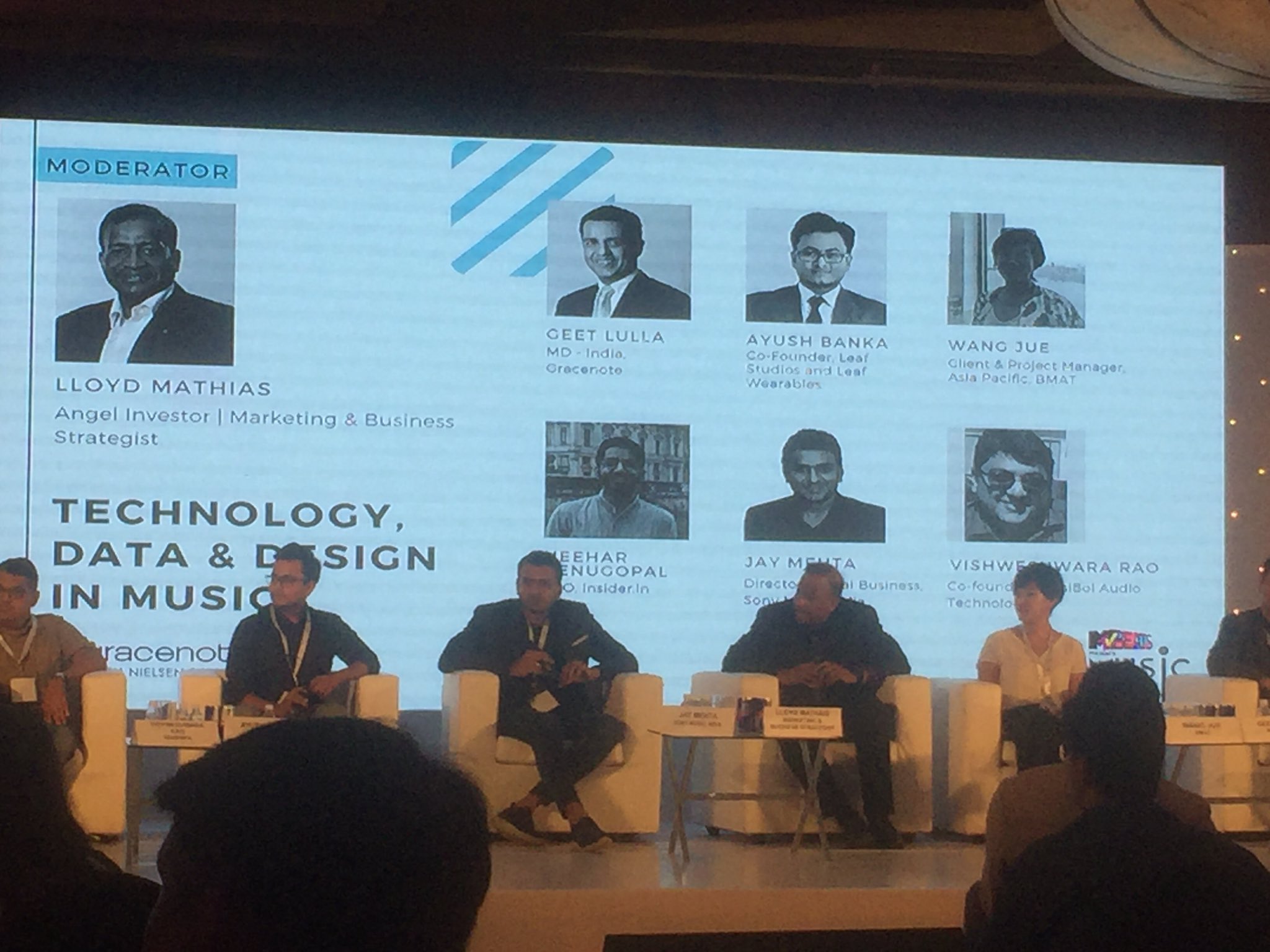 Tarun Katial, CEO, Zee5 was deserted by his panel and chose to go solo. He shared some of his insights on how the music business and creators specifically could be more relevant to the OTT business by focussing on creating quality content and recognizing its value by not offering it for free on platforms like YouTube. He also mentioned that great opportunities exist in for cinematic music, documentaries even pure-play musicals. Unfortunately, he spoke to an almost empty room because he was on the wrong side of an ad break, proving that Zee5 should have made the event an SVOD one!
One of the most interesting panel discussions of the day was the one on "how to grow your music business". There were many entrepreneurs and musicians in the audience who wanted to understand how to protect their copyright to get their music out to the masses. Mandar Thakur assured everyone that while the laws exist to protect copyright, the sheer difficulty of implementing the same on the ground was where the tension is as the police have to grapple with great limitations. Shreyas Srinivasan (from Insider.In) inresponse to an audience question about how to crack it in the music business he stated his simple 3 step formula: Step 1: Email your song to 1000 family & friends. Step 2: Post it on Spotify/Amazon/Apple Music and get them to buy it. Step 3: Get 10000 listens/sales. After that you dont need to do anything else!
That seemed to be the simplest and logical advice from a panel to the audience which contained a mix of high brow corporate executives on the one hand and hungry content creators on the other.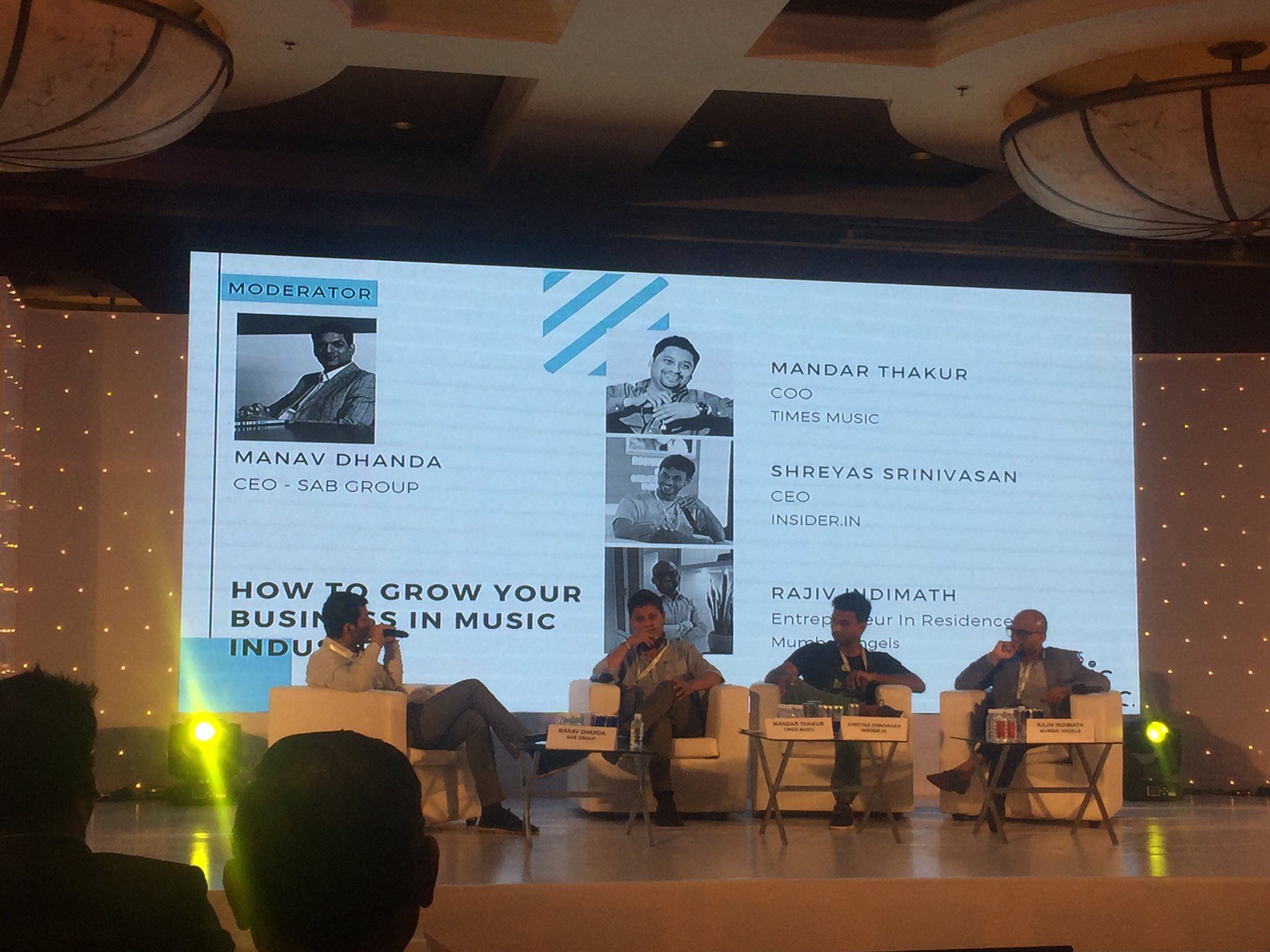 But the last word remained with another veteran of the music biz Mandar Thakur (COO, Times Music) who said "Don't forget the streaming business was started by a pirate!"
======
Day 2:
After an action-packed Day 1, everyone including myself was looking forward to Day 2 with speakers from Spotify and panel discussions around Music's involvement in Sports, Advertising, Tourism and etc. Like a hungry scribe, I arrived as early as I could, whipped out my mobile and started Live tweeting. Little did I know I would end the day having interviewed an Itunes-chart topping musician & being among the first few to view The original Gully Guy Vivienne "Divine's" journey (which by the way is a must watch for everyone with a dream of making it in this business!)
Kicking off the day was the MD of Spotify India – Amarjit Singh India. He spoke very passionately about Spotify's mission to give ALL musicians a level playing field and apart from monetization also help creators improve their craft using their global platform.
Some pretty stunning stats – Spotify has 100 million users (no mention on the India base) and has thus far paid back 10 Billion Euros to artists in terms of royalty.
But what Spotify is known for the ability to curate content at humongous scale through playlists. More than 3 billion of them!
He also spoke about Spotify's continuing efforts to foster greater creativity amongst established and aspiring musicians through its "Creator" program.
Session #2 on understanding the Indian consumer/ smartphone insights/streaming and consumption moderated by @roochay from @Outdustry Manoj Dawane Founder, @VTIONMedia, Gautam Raj, Founder & CEO @Hubhopper Tony Kakkar, Artist, and Anita Nayyar, CEO, @HavasMedia
Some of the insights shared:
Gautam Raj felt that "VOD is not in competition with podcasts. Both can exist together". He confessed to being a podcast addict himself who sometimes sleeps with his headphones on. Mr. Manoj Dawane compared the current situation of handset, content, and bandwidth to that of Brahma, Vishnu & Maheshwara trio being in place and hence ripe for the revolution in content consumption. Anita Nayyar felt "Brands need to work more with creators to deliver smarter solutions to the audience on mobile" While commenting on the attention economy that we live in, Manoj Dawane quoted Reed Hastings CEO of Netflix by saying "Our only competition is sleep" He also advised musicians, creators, and marketers to map their consumers journey during an average day to figure appropriate interventions. Commenting on the readiness of the Indian consumer for podcasts Gautam Raj said the country already ticks a lot of the key boxes – 2nd highest commuting time in the world, 2nd largest mobile base in the world, bandwidth, the highest number of ethnicities, etc. In final comments – Anita Nayyar commented that great content is what gives her goosebumps and brings a tear to her eye. Gautam felt that podcasts need to die a horrific death to end the isolation. It is all-inclusive and needs to be treated so. Manoj Dawane felt that niche is the new mainstream.
This was followed by a keynote "Relentless story of Raftaar in conversation with film critic & entertainment reporter Rajiv Masand.
Rajiv did a good job of trying to give us a peek into the mind of the man that has got the nation grooving to his music. Raftaar was his usual unapologetic best. Asked about his opinion of being on the sidelines of Bollywood for no fault of his, he said it didn't really affect him as his music and the fans are what kept him going. He also touched upon the softer side of the artist and his message for struggling musicians. Of course, what's a chat with Raftaar without some Rap!
Panel #3 was on feeding the superfan appetite | Sports x Music
The session was moderated by veteran event producer Ravi Krishnan (Stepathlon Lifestyle Pvt. Ltd.) who was joined on stage by panelists Lydia Buthello EVP Brand Experience and Events, Star India, Jiggy George Founder & CEO Dream Theatre (and Head, Licensing International, India), Indranil Blah, CEO, Mumbai City FC, Vivek Nayer, CMO, Mahindra & Mahindra & Mohit Joshi, MD, Havas Media.
Ravi kicked off the panel by commenting that India's become a more diverse country in the last 10 years! He also asked panelists to weigh in on how they were using music to drive engagement among fans, especially during offseason? Mohit Joshi asked the audience to recall the last sports anthem apart from Chak De and Bar Bar from Lagaan. Jiggy commented on how Mojostar had launched brand Prowl with Tiger Shroff and released it in tandem with T-series and saw it accumalate over 40 million views within a short span of time which helped induce trial of the brand. Indranil Blah too spoke about the fact that despite Mumbai not being a very football-centric city they had managed to engage a large active base of fans through music. Vivek Nayer spoke passionately about M&M's continuing efforts in Formula 3 to use music and fuse it with experiential marketing to deliver their brand message & how it's been paying rich dividends.
After this, we took a break to have a fireside chat of our own with musician Tejas who serenaded the audience with some of his original compositions. Take a listen.
We then caught up with VJ/DJ & Festival Director Nikhil Chinapa for his fire-side chat "Cult to Cash" with Nirmika Singh, Executive Editor, RollingStone India. Nikhil didn't need much baiting before declaring that NOBODY in the live events business in India is making money! No LIVE event can claim to be ticket positive and hence the need for sponsors. He urged fellow festival organizers to stop lying to their sponsors about ticket sales and focus on building the infrastructure. He opined that it was unfortunate that while people were willing to spend top $ to go see concerts like Tommorow Land abroad and the like, they weren't willing to falk out a few thousand rupees to watch world-class acts in their own backyard. His authenticity has to be complemented and we wish more industry folks were as candid as he was!
But the piece de resistance was, of course, the arrival of superstar rapper and inspiration for the Bollywood smash-hit "Gully Boy" "Divine" who even enthralled everyone with an extempore performance.
Following which the lucky few of us were treated to the premiere of "Gully Life" THE STORY OF DIVINE. As I said earlier I didn't know i would end the day in tears but I was so moved by his story and the way Akshat Gupt, Co-Founder, Supari Studios & his team have brought it to life (it was a labor of love which started almost 18 months back!) Kudos to them. Unfortunately, no Redbull was being served, but Divine's energy was more than enough!
Huge thanks to the team at Loudest.in & Exchange4Media for inviting IndiaLicensingPost.com & Licensing International to the event. We are sure the music business will be better for it!