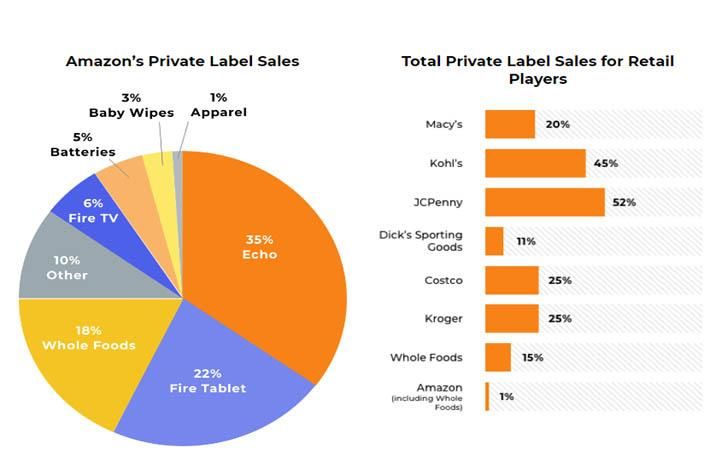 Courtesy: Junglescout
The majority of Amazon's private label brands are found in the apparel departments. Of those brands, 60 per cent target women. In terms of revenue and sales, approximately 20 per cent of its brands account for nearly 80 per cent of its private label brand sales, as per a report. AmazonBasics does nearly 3x the sales of its next most popular brand, Presto.
Currently, Amazon trails only Wal-mart as the top apparel retailer in the US, according to the Amazon Private Label Brands Analysis by JungleScout. It says that 42 per cent of customers who view Amazon Essentials products end up purchasing them. 
The report says that most consumers search for the brand when buying an Amazon private label product, indicating strong brand recognition. Only 1 per cent of Amazon's total sales account for its private label brands. Amazon's Brand Scout + Ro saw 6.4x YOY growth in 2017 and Amazon has added more than 22 private label brands since 2016. 
Amazon has invested heavily in women's clothing labels and continues to do so. However, the analysis shows that women's clothing performs poorly for them. Women's clothing brands account for more than 51 per cent of Amazon's private label brands overall (and 59 per cent of clothing brands). 
"Of the 10 worst performing Amazon private label brands, 9 were women's or girls' clothing labels. And 82 per cent of women's clothing brands fail to sell more than 100 units per month," notes the report. 
On average, men's clothing performs three times better than women's clothing per month. Clothing have difficult selling on Amazon as women want to try on their clothing before they buy it. The other successful brands on Amazon circumvent this issue by being lower cost, less public facing (for example, the women's fashion labels that do well are casual/at-home wear, pajamas, and lingerie), or improved social proof, the report further adds. (KD)
Source: https://www.fibre2fashion.com/news/apparel-news/20-amazon-brands-account-for-80-of-private-brand-sales-245521-newsdetails.htm