With governments around the world making it mandatory for its citizens to wear face masks for the foreseeable future to avoid the spread of the Covid-19 virus, several entrepreneurs and companies have already picked up the mantle to serve this need by repurposing their existing assets. Some purely as CSR initiatives and others as a balance between CSR & to support other businesses that have dipped due to the strictures that have been imposed on business as usual. Here are just a few of the initiatives that caught our eye.
Bravado the licensing arm of Universal Music Group recently announced an initiative to provide a range of non-surgical face masks to its fans under the initiative We've got you covered. The website also mentions 100% of net proceeds will be donated to Music cares an initiative to benefit music-oriented charities and communities. The face masks are priced at $15/- each and are branded with some of the most iconic music brands including Queen, The Rolling Stones, Guns N Roses, Imagine Dragons, YungBlud, Black Pink and Black Sabbath.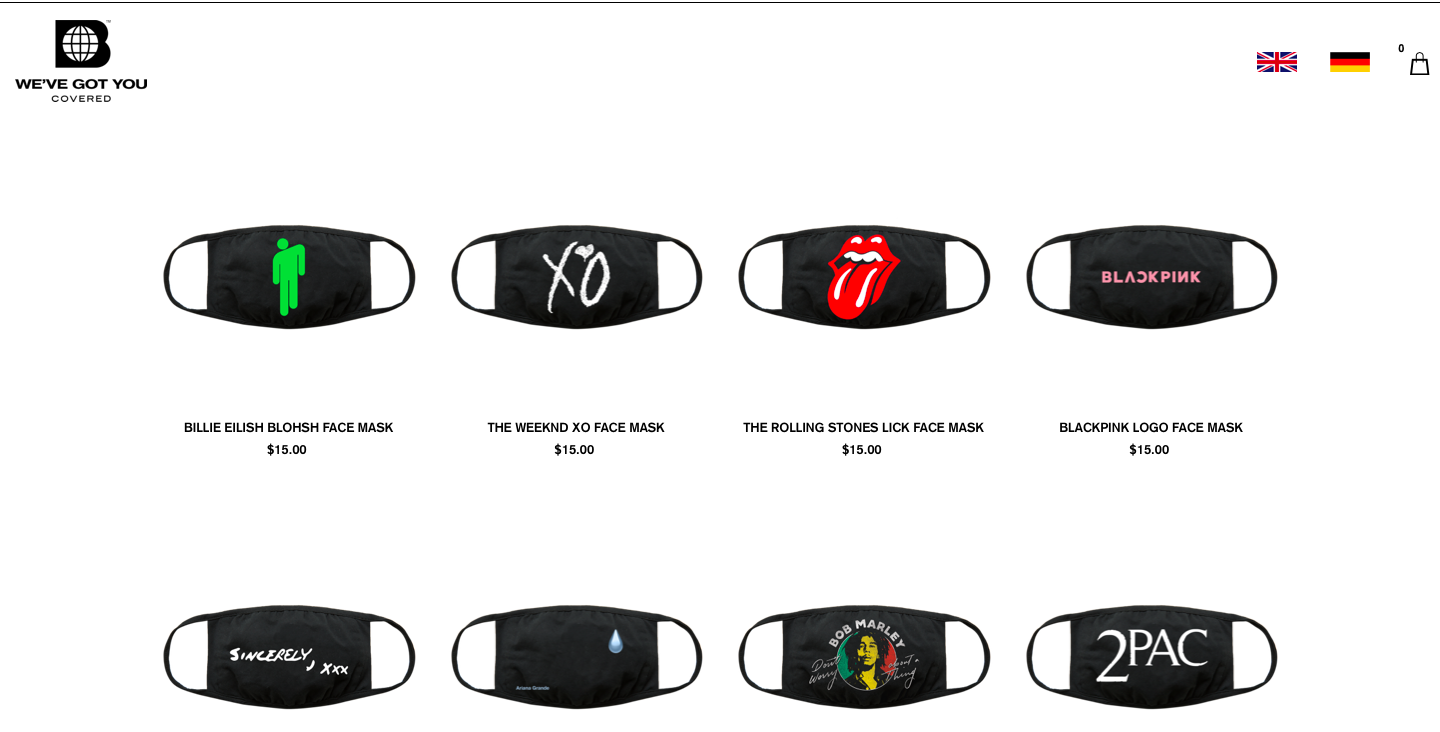 According to LicensingSource.Net, Bravado and Universal Music Group (UMG) launched the programme first by offering free face masks to all UMG employees. The programme will also contribute 50,000 masks to those serving communities across the US including workers in food banks, school lunch programmes, homeless shelters and other community service providers.
Closer home in India, quite a few brands and designers have also decided to repurpose their existing resources to help meet the need of non-surgical masks. With the objective of "Staying Safe and Stylish" designers Anita Dongre & Masaba to name a few have announced initiatives via social media platform Instagram earlier this month much to the delight of their fans.
Said Ms. Dongre, "Ever since lockdown measures came into place, we have been finding ways to contribute meaningfully to safety efforts amidst the current pandemic. These efforts have now been greenlit."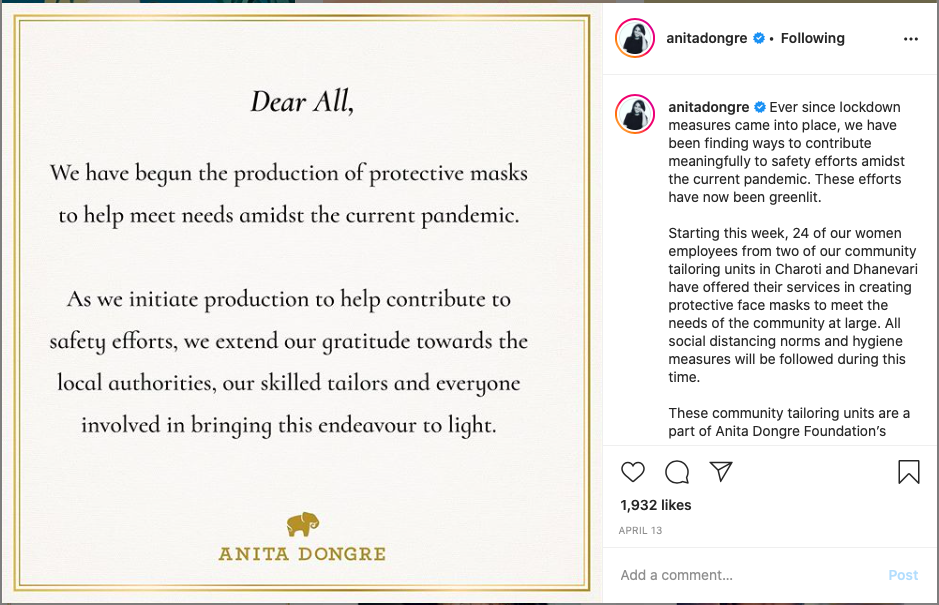 (image courtesy Anita Dongre's Instagram account)
 She further stated – "24 of our women employees from two of our community tailoring units in Charoti and Dhanevari have offered their services in creating protective face masks to meet the needs of the community at large. All social distancing norms and hygiene measures will be followed during this time"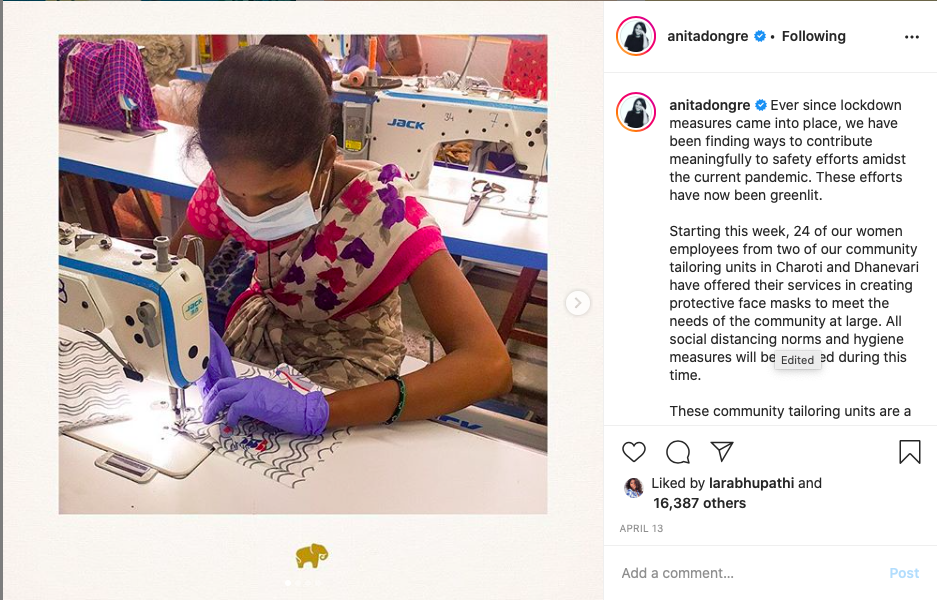 (image courtesy Anita Dongre's Instagram account)
Designer Masaba Gupta wrote "Changing gears for some time in the wake of the current pandemic & lockdown across the country, all operations at the House of Masaba came to a halt. While the damage that this will do is immeasurable at this point, my hope is to keep my chin up by doing my bit to help my country instead-in this time. We have started the production of non-surgical masks for donation at a production facility keeping all hygiene and safety standards in mind. These masks are washable and reusable"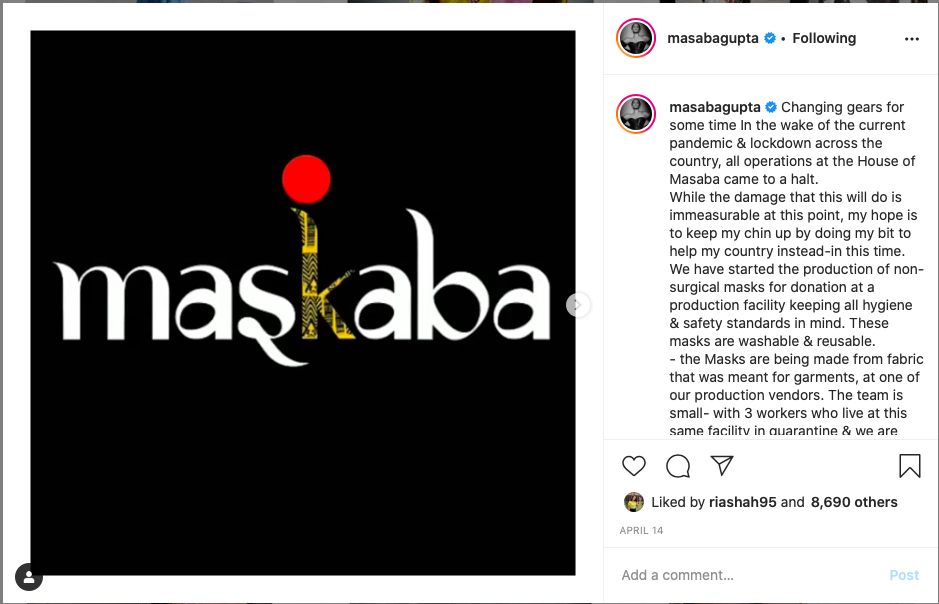 India's largest English news daily The Times Of India has taken the DIY route to rally its readers to design their own face masks and share the same with the tag #MaskIndia on its website. Best masks get featured in the newspaper. So far the campaign has received over 90,000 submissions.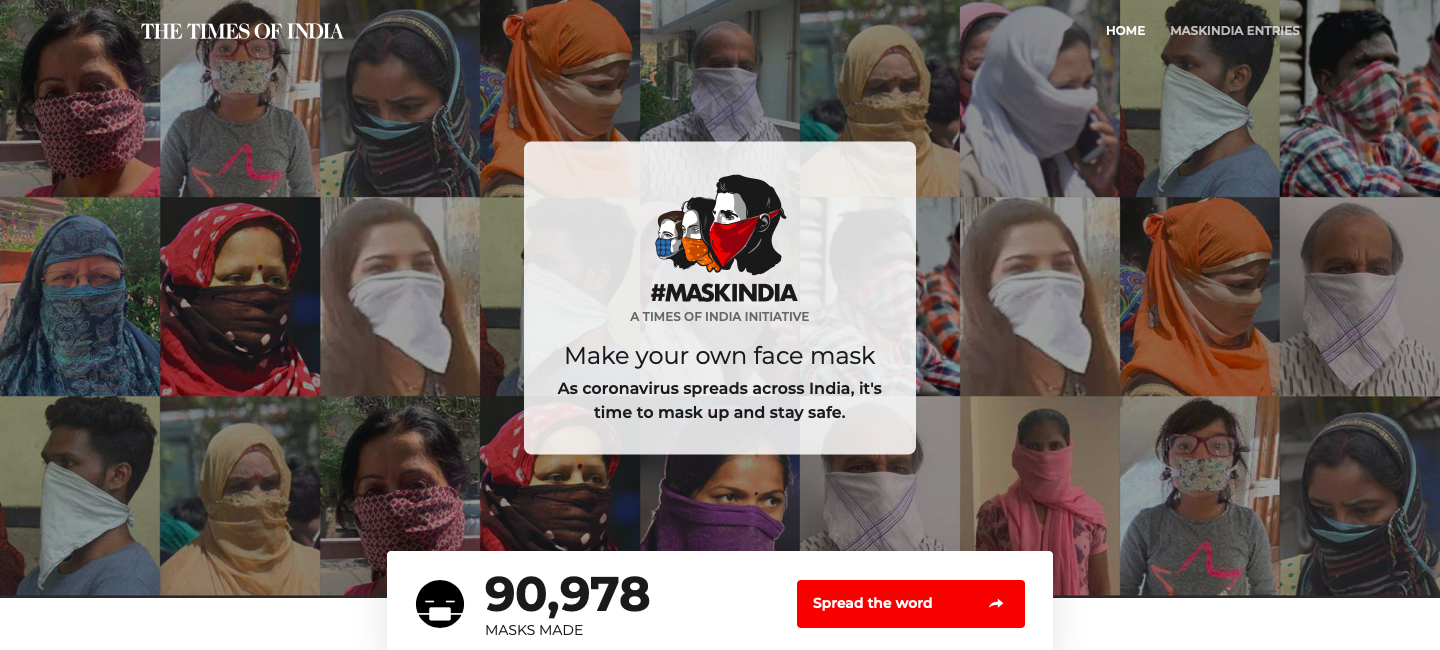 (image courtesy Times Of India campaign page)
While the central government has announced 17th May as the end date for Lockdown 3.0, the Prime Minister's Office has left it to individual state governments to decide on their exit plans. However, the discourse has certainly shifted from saving lives to saving "lively hoods" and with 1.3 billion people to care for getting things up and running and back to normalcy is going to need everyone to pitch in with whatever they can do. Whether its making masks or serving at a local soup kitchen, we are all in this together.